Author, Janet Newton with Annette R Burrell
The asphalt shone and gripped my boots as I stepped out of the truck. My eyes were so fixed on the gentleman in the cemetery that only the sudden sound of my friend Donna's car door closing brought me back from my trance. The elderly man's gaze seemed to be urging us to come and join him in his grieving.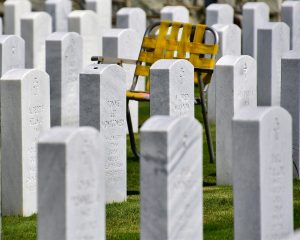 The National cemetery was filled with pristine headstones all lined up in a row. Only the rock wall separating it from the outside world showed signs of age. Any other day it would have been those beautiful headstones drawing me and my constant companion to this place, but today it was the older man and his yellow webbed lawn chair that captivated me. The bill of his cap shaded the morning sun from his brow and, thanks to Donna, we were able to offer him a bottle of water to help quench his thirst.
"I was just praying for an angel," the gentleman said as we approached him, "I was wanting someone to take a picture of me and my wife. Today is her birthday. My daughter said God would send someone."
"Well, I don't know if we are angels or not, but today's your lucky day. We are photographers," I replied back to the sweet man.
As he began fidgeting with his iPad I noticed the grave marker in front of his worn chair.  Judging from the marker his wife must have been 87 years old when she died.  And, today she would have been 90 had she lived another 3 years.  The gold wedding band he wore was dull and fit snug around his finger, but for him it was like a trophy to the one who had won first prize capturing his life-long bride. As fate would have it, Mr. Jay couldn't get his iPad to work so Donna and I pulled out our constant companions and told him we would take pictures with our cameras instead and mail him some prints if he would give us his address.
As we began snapping pictures he started sharing memories of his bride and painted a life that could hardly be captured in pictures from this day. We were so busy doing what we do best neither one of us noticed what he held so tightly in his hand.  The chair squeaked quietly as he sat down, handed me the card, and asked me to read it to her for him.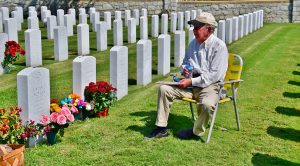 Mr. Jay had been visiting her every day around 10:00am since her passing and today he brought her a card and some fresh flowers. As I began to read it I was overwhelmed with emotion for this faithful old gentleman. I became so choked up by the tears that I lost my ability to speak. According to Mr. Jay, he had spent every day for the past 3 years 6 months and 27 days in this very spot. How many years had he spent before that in this same worn out chair with her beside him? How many times had they held hands? How many times had he been beside her bed as she delivered their children? And, how many times had he sat with her before she died?
My friend Donna jumped in and rescued me from my tears and she asked Mr. Jay if his wife had had a favorite song. It was in that moment he began to sing:
I love you because you understand dear
Every single thing I try to do
You're always there to lend a helping hand dear
I love you most of all because you're you
No matter what the world may say about me
I know your love will always see me through
I love you for the way you never doubt me
But most of all I love you 'cause you're you
I love you because my heart is lighter
Every time I'm walking by your side
I love you because the future's brighter
The door to happiness you open wide
No matter what the world may say about me
I know your love will always see me through
I love you for a hundred thousand reasons
But most of all I love you 'cause you're you
We then stood over Mrs. Vivian's grave—the three of us linked arm-in-arm—singing happy birthday to a friend we'd never meet.
Donna and I must have spent 2 hours with Mr. Jay that day, but it seemed like the blink of an eye and it was over. On our way home from the mountains we talked about what we'd like to do. We wouldn't just send him some photographs; we'd make it special.
The day the book titled "I Love You Because" came in the mail Mr. Jay called us right away. He was enjoying his little book on this, what would have been their 75th wedding anniversary, day.
Only God could have orchestrated the events that took place a few short months ago. Two photographers just passing by a military cemetery when a Sergeant prayed for someone to come and take his picture. Two photographers just wanting to give a man a drink of water to quench his thirst on such a hot day. An iPad that had just worked a few moments before somehow started not operating. Two photographers wanted to make the pictures special for the gentleman and spent some extra time putting his pictures into a book and adding some captions to commemorate Mrs. Vivian's 90th birthday. A book that was meant to provide memories of Mr. Jay and Mrs. Vivian's day together just happened to arrive in the mailbox on what would have been their 75th wedding anniversary.  Our God isn't a God of chances. And, he does send angels. I happen to have met one on that day, and his name was Mr. Jay.
Janet Newton is a professional, free-lance photographer and the President at Sweetwater Camera Club in Douglasville, Georgia. Click on the link to visit her Facebook page and contact her for photography services.
Sidebar regarding angels
Luke 22:43 An angel from heaven appeared to him and strengthened him. (NIV)
Acts 11:13 He told us how he had seen an angel appear in his house and say, "Send to Joppa for Simon who is called Peter." (NIV)
There has always been and still is much debate over whether or not angels come to people on earth. The Bible teaches that there are too many angels in heaven to be numbered and angels have appeared to people throughout time. In his book Angels: Ringing Assurance That We Are Not Alone, Billy Graham suggests another reason that we are unable to see angels:
While angels may become visible by choice, our eyes are not considered to see them ordinarily any more than we can see the dimensions of a nuclear field, the structure of atoms, or the electricity that flows through copper wiring. Our ability to sense reality is limited . . . So why should we think it strange if we fail to perceive the evidences of angelic presence?
There must be quite a lot of intervening angels around that we just never notice — but sometimes, when the time is right, God takes the scales off our eyes so we can see them. In Numbers 22:31, Balaam's eyes were opened to see the "Angel of the Lord," and in 2 Kings 6:16-17, the Lord opened the eyes of Elisha's servant to see the "horses and chariots of fire" surrounding Elisha.
I look forward to sharing what I believe to be two real angel appearances in Part Two of the Angel Series.  If you have an angel story you'd like to share please send me a note through the Contact Me page.
For more inspirational and spiritual stories, subscribe to this blog by providing your email address and clicking on the submit button on any of the pages found on the menu bar.