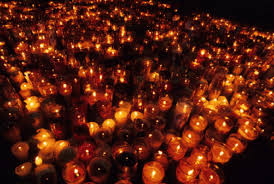 I was privileged and honored to sing at the funeral of the mother-in-law of a dear friend a few days ago. When I received the call asking if I could and would do it I immediately said yes, but then I started doubting myself. Although I sing in choir and on the praise team of the church I attend it has been many years that I have actually sang a solo in public. But I had said yes, so I was committed. That did not prevent fear from coming into place; however, so I began to pray for God to give me peace and calm me during the time I would sing.  The songs of choice from the family were "How Great Thou Art", and "It Is Well With My Soul". I had sang these songs hundreds of times in my life and could probably sing them in my sleep so I shouldn't be worried or nervous should I? When we pray God will answer us, sometimes immediately, sometimes years after our prayers. I believe since this prayer was for an immediate need God chose to answer immediately.  What I learned though was that he didn't calm my nerves for "me", He did it to glorify Himself and to uplift this Godly woman.
I'll tell you about Enid, whom I had never met. She was destined to be a woman of God even before she was born. Her parents chose to name her Enid. No one knows why but there's something to be said about the meaning of someone's name. The preacher who delivered the sermon that day, and it was a sermon, said he had never known anyone named Enid before so he was curious why she was named Enid and since no one in the family had an answer he researched the meaning of the name. The name itself comes from English, Welsh and Celtic decent. It means soul, spirit, life, fair. The preacher elaborated on the details of what the name meant and settled on the fact that Enid, through the nature of the meaning of her own name, had her soul filled with the Holy Spirit. It was evident in her life as she became a believer of Christ in her early 20's and devoted her life to sharing God's word with others. She was a Sunday School teacher for many years and led a bible study group. No one knows just how many people came to know the Lord because of Enid's faithfulness, but there are probably many who met her at the gate when she entered into Heaven. Her heart was filled with scripture. As a matter of fact, the preacher went on to say that he had been preaching at funerals for many years and had probably delivered the message of over 400 people who had died. But, never once had he delivered the message of someone who had written their own sermon. Never, until today, he went on to say.  God works things out for His word to be heard and I realized that when Jimmy said Enid had even planned who she wanted to preach her sermon. She had several on her list. The first preacher had died long ago, the second one passed more recently and the third one could not be found. So it was left upon him to deliver Enid's sermon from her handwritten notes from years ago. He was really put on the spot to deliver her message and throw the winning touchdown in the Superbowl.  But, he said he really didn't have to worry about that because Enid had already done that herself. I believe Enid would have hugged Jimmy's neck and said thank you.
Enid had seven points to her message. I'm sorry to say that I can't share them with you because I wasn't taking notes but each point had a scripture reference that was very spot on.  The message was clear, she went to be with the Lord on Valentines Day of 2015 and He was saying well done my faithful servant.  She talked about, through this preacher Jimmy, that God loves "U" and he wants you to come to know Him. Her message was focused on acknowledging and praising her Savior and not about herself. Jimmy added his own summation of Enid and said that if there ever was a virtuous woman that is described in Proverbs 31:10-31, it would be Enid.
Proverbs 31:10-31
New International Version (NIV)
Epilogue: The Wife of Noble Character
10 [a]A wife of noble character who can find?
    She is worth far more than rubies.
11 Her husband has full confidence in her
    and lacks nothing of value.
12 She brings him good, not harm,
    all the days of her life.
13 She selects wool and flax
    and works with eager hands.
14 She is like the merchant ships,
    bringing her food from afar.
15 She gets up while it is still night;
    she provides food for her family
    and portions for her female servants.
16 She considers a field and buys it;
    out of her earnings she plants a vineyard.
17 She sets about her work vigorously;
    her arms are strong for her tasks.
18 She sees that her trading is profitable,
    and her lamp does not go out at night.
19 In her hand she holds the distaff
    and grasps the spindle with her fingers.
20 She opens her arms to the poor
    and extends her hands to the needy.
21 When it snows, she has no fear for her household;
    for all of them are clothed in scarlet.
22 She makes coverings for her bed;
    she is clothed in fine linen and purple.
23 Her husband is respected at the city gate,
    where he takes his seat among the elders of the land.
24 She makes linen garments and sells them,
    and supplies the merchants with sashes.
25 She is clothed with strength and dignity;
    she can laugh at the days to come.
26 She speaks with wisdom,
    and faithful instruction is on her tongue.
27 She watches over the affairs of her household
    and does not eat the bread of idleness.
28 Her children arise and call her blessed;
    her husband also, and he praises her:
29 "Many women do noble things,
    but you surpass them all."
30 Charm is deceptive, and beauty is fleeting;
    but a woman who fears the Lord is to be praised.
31 Honor her for all that her hands have done,
    and let her works bring her praise at the city gate.
The preacher spoke to the family and then said a prayer. God then breathed on me as I sang "It Is Well With My Soul", and then I wept tears of joy for my dear sister who I never met.
May you rest in peace Enid, oh you faithful servant of God.